So many factors go into having a successful NFL franchise. As much as the game is a team sport—predicated largely on personnel moves and strength of coaching—there are individual players who stand out among the crowd and really move the needle.
There are a number of established stars who help make the league as exciting as ever. However, there are a number of rising studs on the precipice of greatness who are worthy of special attention—not to be confused with premature coronation.
Read on for a look into the best of the next wave: a collection of 20 players who are ready or are already taking the NFL and its fandom by storm in 2018 and beyond.
Carson Wentz, quarterback, Philadelphia Eagles
A monster second season in Philadelphia from Wentz was a big reason why the Eagles won Super Bowl LII. However, Wentz didn't really get his due since he tore his ACL late in the year and couldn't finish off Philly's championship run.
Provided Wentz is healthy by Week 1, he should have little trouble picking up where he left off in 2017, when he threw for 33 touchdowns in 13 games. The Eagles are loaded on offense and could function fine with a game manager, never mind with a mobile, strong-armed, downfield passing playmaker like Wentz pulling the trigger.
Despite an aw-shucks, humble personality, Wentz has almost one million Twitter followers, had the No. 1-selling jersey last year and will only see his profile grow when he bounces back strong this season.
Alvin Kamara, running back, New Orleans Saints
Although he is all-business on the gridiron, Kamara comes across as unique a person as he is a player. He became just the second rookie ever to amass 700 yards rushing and receiving in a season, but the dynamic ball-carrier is also a fun social media follow. Kamara somehow makes talking about vanilla milkshakes entertaining, has posted pictures of huge, full-leg tattoo sleeves this offseason and tosses in some humorous commentary on sports, family and trivial life events, such as waiting to board a flight.
If Kamara opens up even more in the media, he's bound to see exponential growth in his popularity and following.
Jalen Ramsey, cornerback, Jacksonville Jaguars
Unafraid to stir the pot, Ramsey has all kinds of talent and will trash talk with anyone. He got into a scufflewith Cincinnati Bengals receiver A.J. Green this past season, gave New England Patriots quarterback Tom Brady some grief before squaring off with in the AFC title game and was a big reason the Jaguars took a big leap forward in 2017.
Ramsey is already in the conversation as the greatest player at his position despite only two years in the league. He's a fiery guy who can back it up. On Tuesday he even had the gall to call out Jimmy Garoppolo, attributing the San Francisco 49ers' 44-point eruption against the Jags last season as more "scheme stuff" than Garoppolo "dicing them up."
More of Jalen Ramsey, please. Yes, he's going to be an NFL headliner for a long time.
Aaron Donald, defensive lineman, Los Angeles Rams
Few interior defensive linemen become household names like J.J. Watt and Ndamukong Suh to a lesser, more notorious degree. Donald is the reigning AP Defensive Player of the Year and is soon to earn that status.
Although he's holding out for the second straight offseason, there were no ill effects from that situation last year for Donald. Judging by his recent bench-pressing beastliness, there's no doubt Donald is keeping himself in peak physical form for the 2018 season.
Speaking of Suh, he went ahead and joined the Rams this offseason, which will take pressure off of Donald and allow him to be even more dominant. With Marcus Peters and Aqib Talib locking down receivers on the back end to afford Donald even more time to destroy opposing blockers, there's no telling how good he'll be as the Rams make a legitimate championship push.
JuJu Smith-Schuster, wide receiver, Pittsburgh Steelers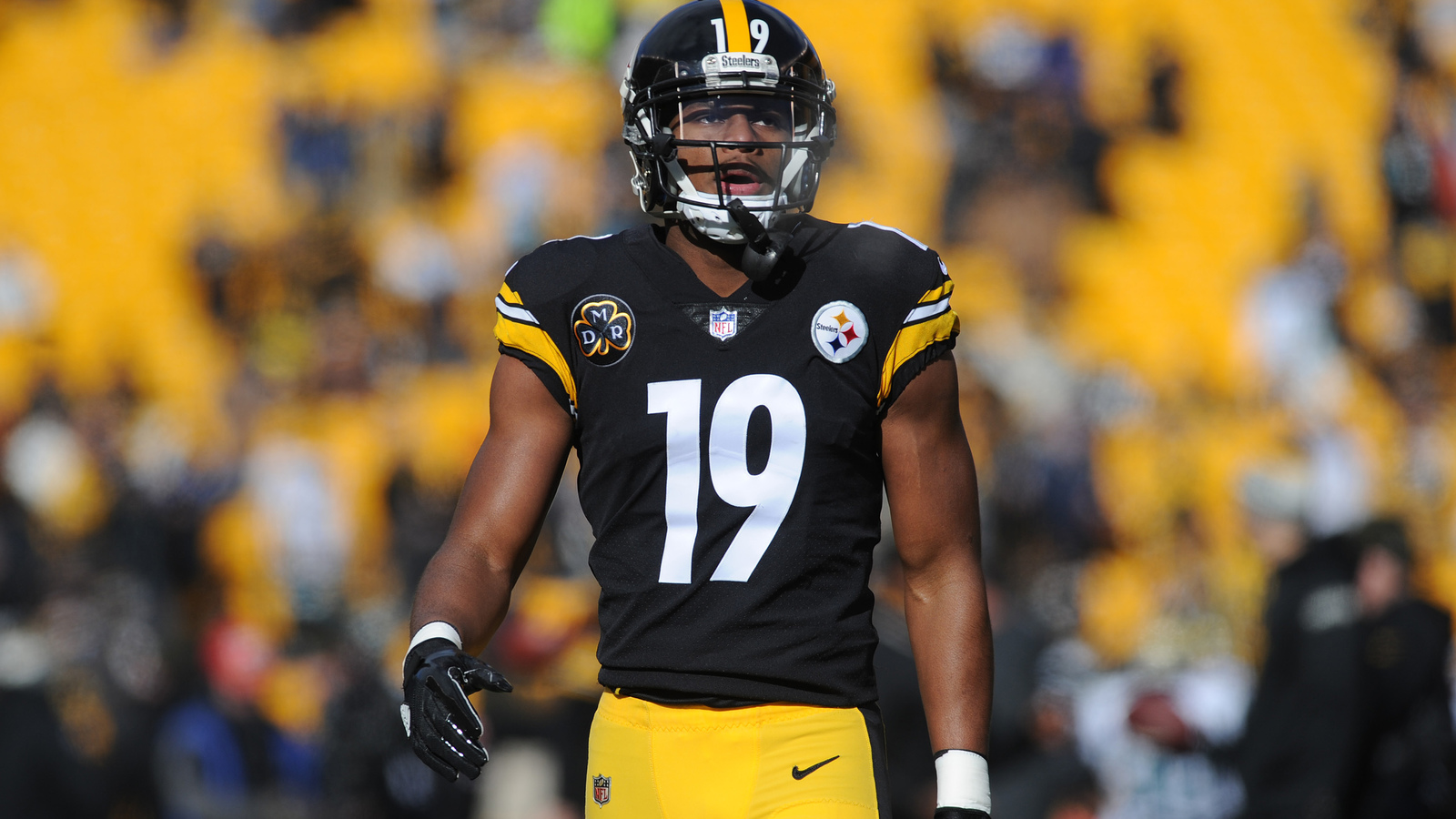 Philip G. Pavely-USA TODAY Sports
Still so young, with the benefit of having Antonio Brown opposite him, Smith-Schuster has a ton of upside as a player, but is a social-media savant.
Routinely going viral on Twitter, the 21-year-old released a video of himself in February wearing his Steelers uniform to classes and around campus back at his alma mater, USC.  He's a tremendous comedian, let's be honest, and his media brand is unique in that he has over 505,000 YouTube subscribers along with 667,000-plus Twitter followers as of this writing.
NFL players often make a big jump between their first and second seasons. If that's the case for Smith-Schuster, expect an easy 1,000-yard season after logging 917 yards receiving as a rookie.
Deshaun Watson, quarterback, Houston Texans
Already considered to be among the 50 NFL greatest players, the former Clemson national champion burst onto the scene as a rookie before blowing out his knee in practice in the middle of a potential rise to near-instant superstardom.
Watson has one of the best wideouts in the game, DeAndre Hopkins, as his go-to guy, and a coach in Bill O'Brien who proved in 2017 he's willing to cater to the young signal-caller's strengths.
More known of late for J.J. Watt and their defensive identity, the Texans are about to experience what elite quarterback play feels like. Watson has bounced back from ACL surgery before; he can do it again and boost Houston to the playoffs—all the while exciting even non-Texans fans similar to how Russell Wilson has throughout his career in Seattle.
Saquon Barkley, running back, New York Giants
Bright lights. Big city. Big Apple. Barkley. It all fits. The Giants are doing all they can to take pressure off aging quarterback Eli Manning, and bolstered the offensive line this offseason through free-agent left tackle Nate Solder and second-round guard Will Hernandez.
That's good news for Barkley too, whose running lanes figure to open up thanks to New York's new-look lineup in the trenches in front of him. But Barkley is the type of rare playmaker who can catch the ball in addition to running it with authority, with a knack for generating yards after contact thanks to a rare blend of size, speed and quickness.
Giants receiver Odell Beckham Jr. has already taken the league by storm in many ways. Barkley is the G-Men's freshly minted, rookie No. 2 overall pick and will be New York's next electric playmaker, with far fewer OBJ-esque antics involved.
Myles Garrett, defensive end, Cleveland Browns
The dinosaur-loving, quarterback-sacking, 2017 No. 1 overall draft pick is a franchise cornerstone the likes of which the Browns haven't seen since returning to the NFL in 1999.
Garrett dealt with some injuries as a rookie but still posted seven sacks in 11 games for a winless team featuring a bad secondary. He also says in the video above he feels he's improved a lot.
If Cleveland can cover a little better—the hope is rookie fourth overall pick Denzel Ward will be a shutdown corner—Garrett will wreak even more havoc in the pocket this coming season.
Given his natural charisma, articulate nature, activity on Twitter and generational talent and athletic ability, Garrett has all the makings of a Hard Knocks star, which will help him emerge as one of the game's most buzzed-about players.
Jimmy Garoppolo, quarterback, San Francisco 49ers
I mean, he's called Jimmy GQ for a reason. But beyond hitting the genetic lottery, Garoppolo is a legitimate rising star has earned his shot to be San Francisco's franchise quarterback.
Despite joining the team mid-season in 2017, he shined when given the chance, going 5-0 as a starter with a 96.2 passer rating. Head coach and play-caller Kyle Shanahan is among the most innovative minds in the game, and evidently has a dynamic player in Garoppolo on his hands.
Taking over the offensive reins for an organization that's employed the likes of legends in Joe Montana and Steve Young at his position, Garoppolo has a real chance to carve out his own epic legacy.
Shaquem Griffin, linebacker, Seattle Seahawks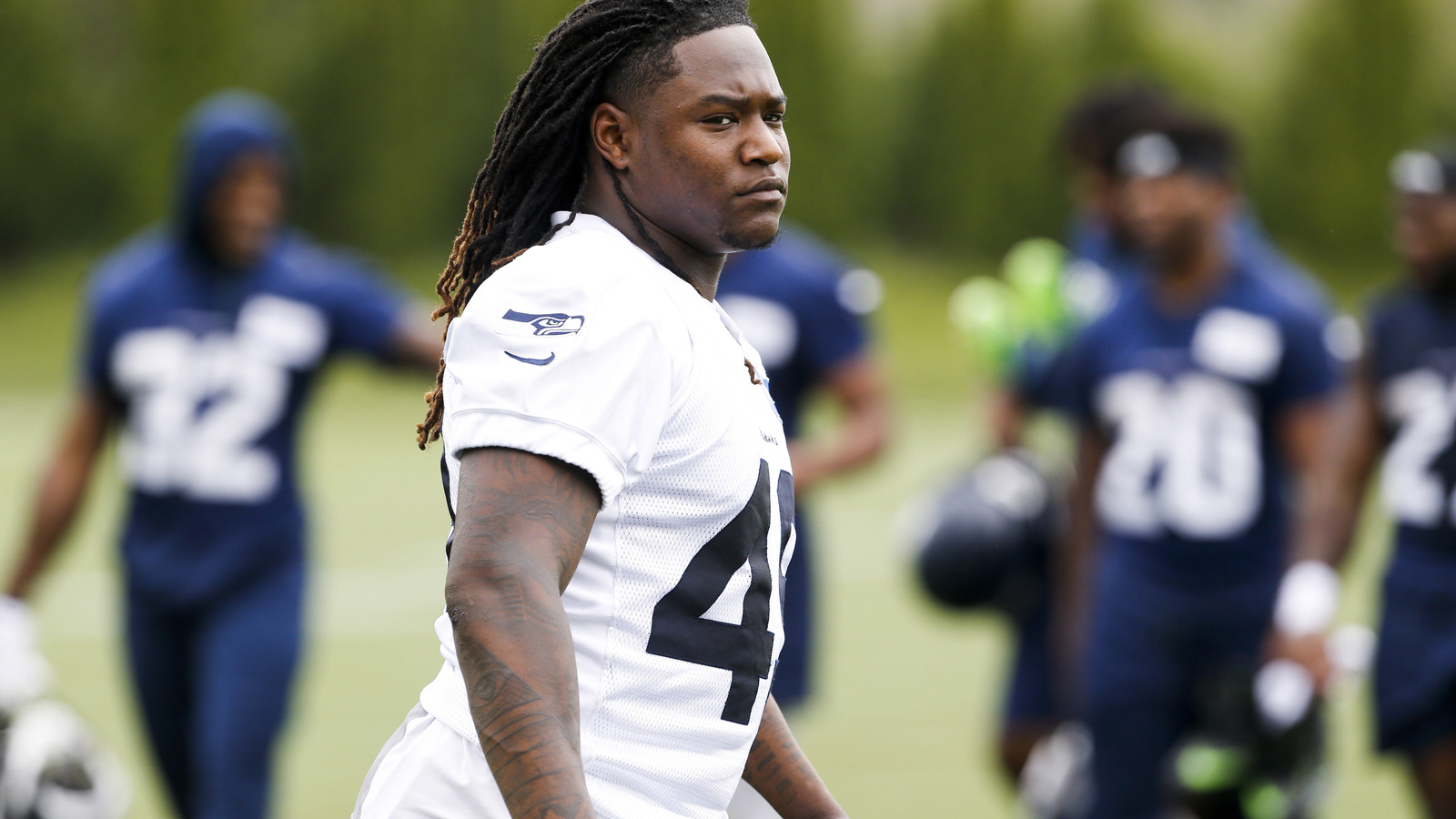 Joe Nicholson-USA TODAY Sports
It goes without saying how inspirational Griffin has already been in his young football career. His performance at the NFL Scouting Combine alone went viral, when he put up 20 reps on the bench press and ran the fastest time ever by a linebacker in the 40-yard dash at 4.38 seconds. He was reunited with his brother, cornerback Shaquill, when the Seahawks chose him in the fifth round of this year's draft.
Griffin was born with amniotic band syndrome and is without his left hand, but that hasn't stopped him from pursuing his NFL dream. Considering Griffin was the American Athletic Conference's defensive player of the year in 2016 and was a second-team All-American last year, it's unwise to bet against him.
This isn't just a feel-good story of someone merely making it to the NFL. It won't be a total surprise to see Griffin thrive, given his incredible quickness, agility, functional strength and pass-rushing ability.
Source: Yard Barker
Read More