This NFL offseason has been filled with record-breaking contracts on both sides of the ball. It started with Jimmy Garoppolo landing an absurd deal in San Francisco and continued with Matt Ryan replacing him as the game's highest-paid quarterback. In between, Kirk Cousins received the first fully guaranteed multi-year deal in league history.
On the defensive side of the ball, Trumaine Johnson, Danielle Hunter, Xavier Rhodes and Malcolm Butler all earned lucrative long-term deals.
In no way does this mean the NFL's offseason of spending is over. There are multiple stars in line for big extensions before the 2018 season begins. That includes all-time great quarterbacks Tom Brady and Aaron Rodgers as well as multiple young defenders. It's in this that we look at 12 stars set for huge extensions before Week 1.
David Johnson, running back, Arizona Cardinals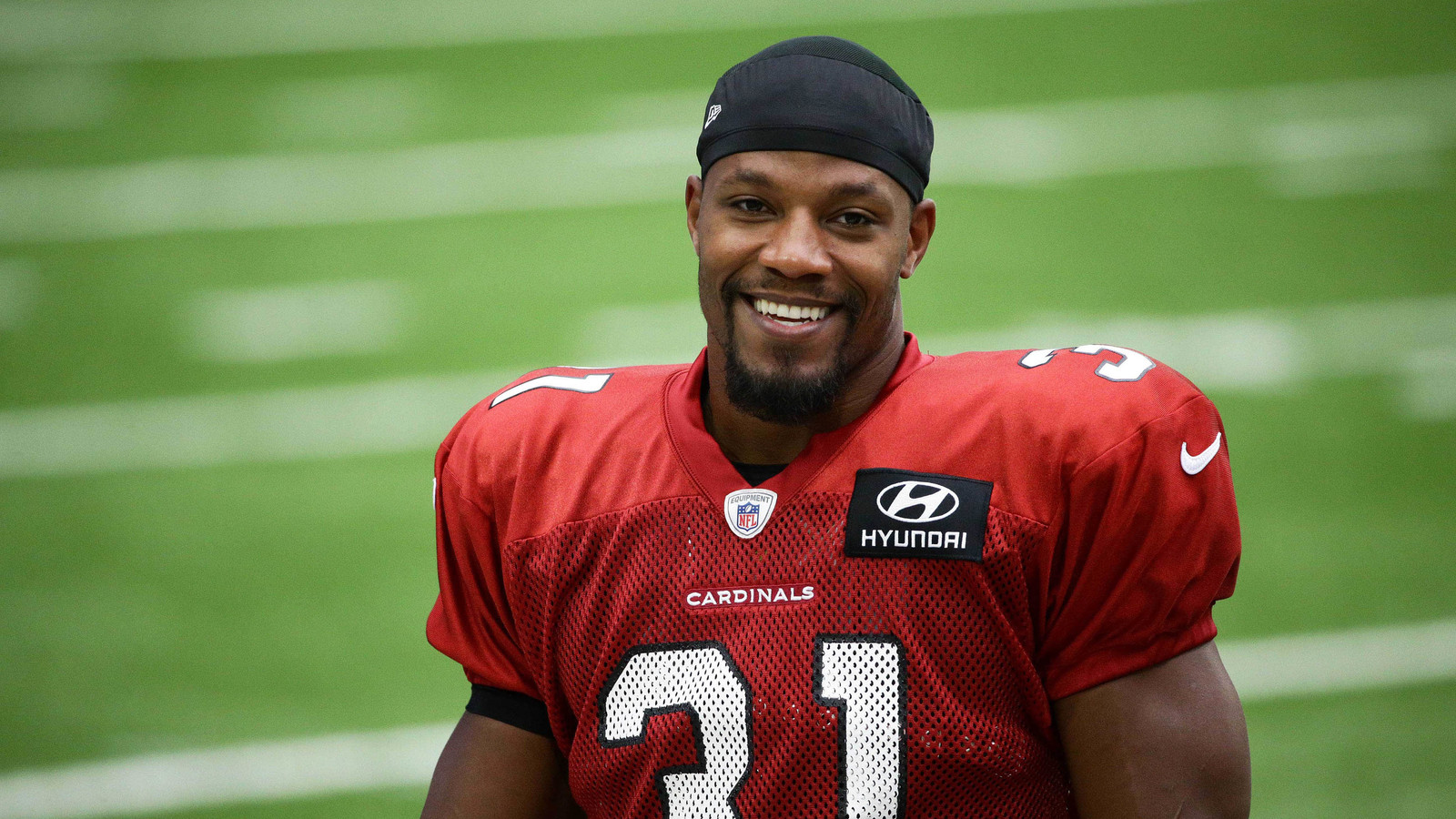 Rob Schumacher-USA TODAY Sports
Despite missing all but one game to injury last season, there have been rumblings out of the desert that this dynamic running back will be extended prior to the start of the 2018 season. And for good reason. With Carson Palmer in retirement and Larry Fitzgerald set to join him there soon, Johnson is now the face of the Cardinals' franchise.
A third-round pick out of Northern Iowa back in 2015, Johnson gained 2,118 total yards and 20 touchdowns from scrimmage as a sophomore, leading NFL running backs in each category. He's still only 26 years old and has yet to hit his prime. Being a multi-dimensional threat out of the backfield (80 receptions in 2016), his value to the Cardinals is absolutely huge.
Looking at the current market for running backs, something north of the five-year, $41.25 million dealDevonta Freeman signed with the Atlanta Falcons last offseason seems to make the most sense here.
Marcus Peters, cornerback, Los Angeles Rams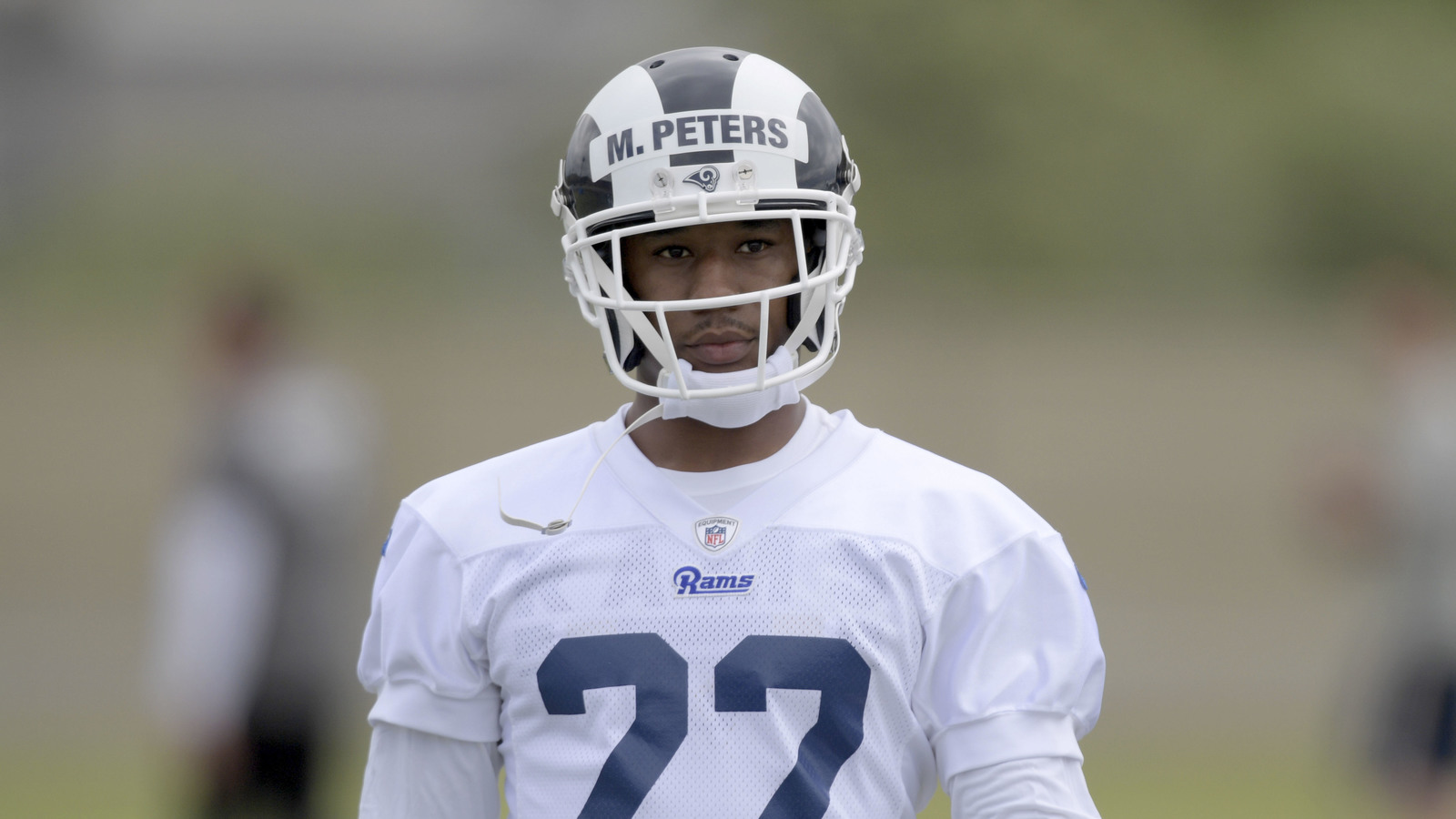 Kirby Lee-USA TODAY Sports
Los Angeles didn't yield a fourth-round pick in this year's draft and a second rounder next year to the Chiefs for Peters to be a one-year rental. That's not how it works. As the top ball hawk in the NFL since entering the league back in 2015, Peters will get paid here soon. Here's a guy that has forced an average of seven turnovers over the course of his three seasons in the league.
Certainly, the Rams have a whole plethora of contracts to worry about. We'll focus on the others a tad later. But when you can lock up a shutdown cornerback to a long-term deal before he enters his age-25 season, it's something you simply have to do.
The cornerback market is somewhat wonky in that Trumaine Johnson and Xavier Rhodes have earned huge paydays recently. Johnson benefited from being a free agent in an offseason that saw plenty of teams with a ton of cash to spend. This is something the Rams don't want to be forced to deal with moving forward.
Julio Jones, wide receiver, Atlanta Falcons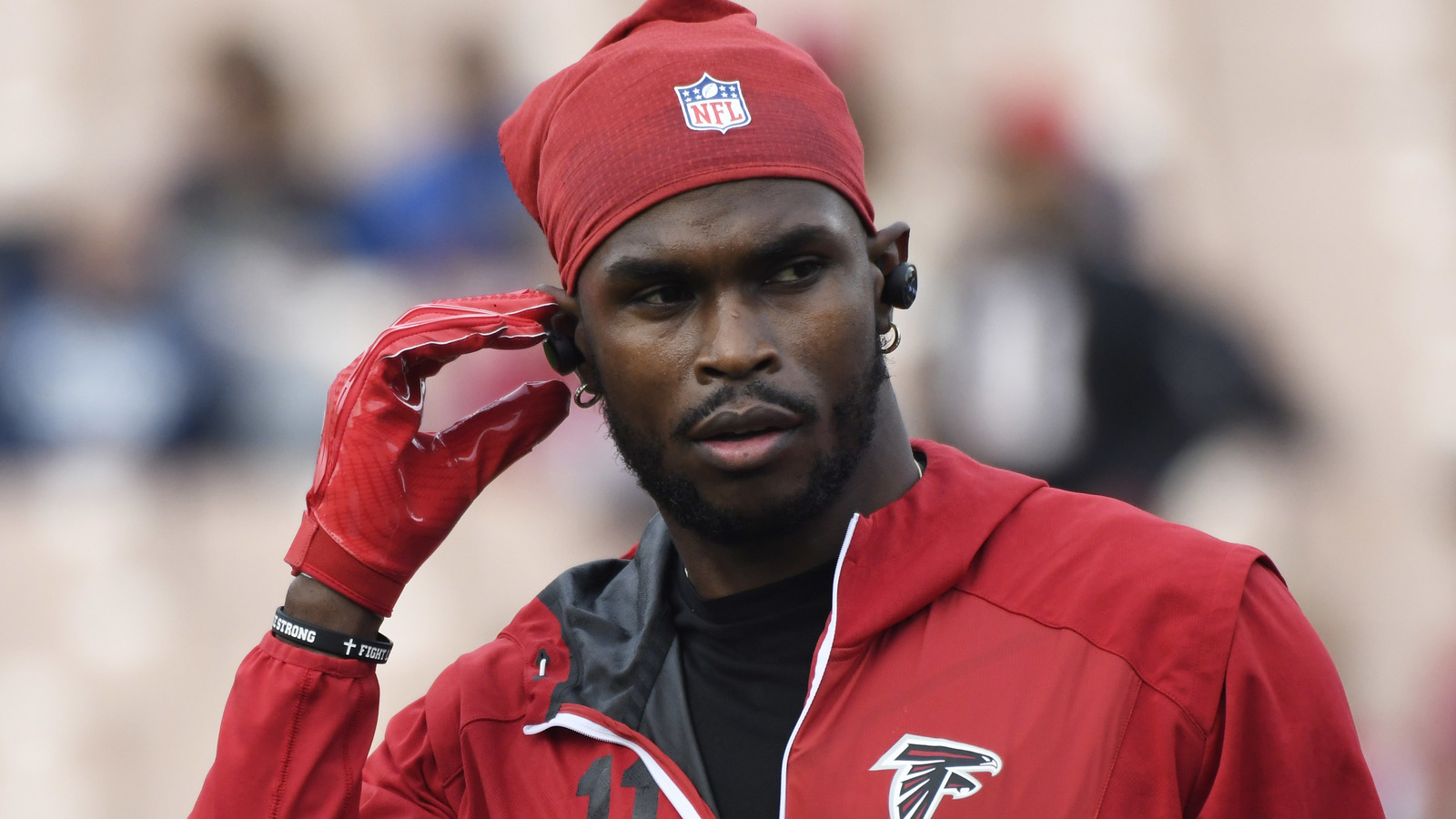 Robert Hanashiro-USA TODAY Sports
At this point, it seems to be a foregone conclusion that Jones won't report to training camp unless he receives a raise from the $10.5 million base salary he's set to make next season. And while most of the focus at wide receiver has been on Odell Beckham's contract situation, we fully expect this to be resolved first.
Jones, 29, has put up an average of 103 receptions for 1,579 yards over the past four seasons. He's more consistent than OBJ and has not been anywhere near the enigmatic locker room presence as his counterpart in New York.
Given that Jones is in the midst of his prime, any new deal won't add a full five years on to his new contract. Instead, an extension would simply provide the star receiver a raise over the final three years of his current deal while adding a couple more years to the mix. He's certainly in line to top the $16.5 million Mike Evans received annually on his new deal with Tampa Bay. That's for sure.
Ben Roethlisberger, quarterback, Pittsburgh Steelers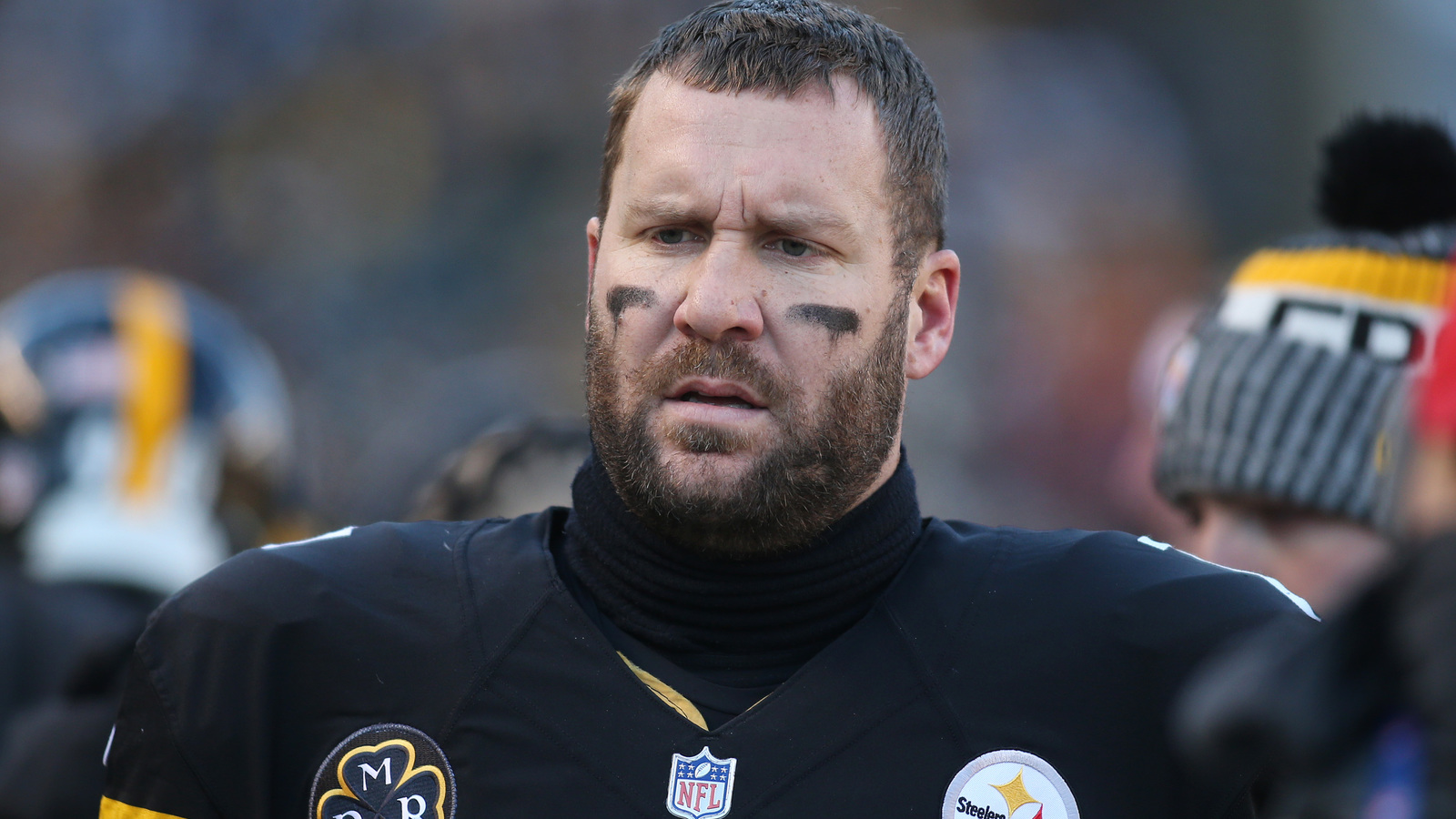 Charles LeClaire-USA TODAY Sports
From talking about retirement to looking for an extension. This is the 180 we have seen Big Ben do during the offseason, and it's going to lead to a massive payday for the future Hall of Famer at some point soon. Even after adding Mason Rudolph in April's draft, Pittsburgh is committed to Roethlisberger long term. Coming off an age-35 season that saw him put up nearly 4,300 yards with 28 touchdowns and 14 interceptions, this makes sense from a Steelers perspective.
The only question here is what a new deal might look like. Big Ben's average annual salary of $21.85 million makes him the 11th highest paid quarterback in the league. It also runs through the 2019 season. It's in this that we wouldn't be shocked to see Pittsburgh hand the Super Bowl winner a reworked deal that pays him $30-plus million annually through the 2021 or 2022 campaign.
Leonard Williams, defensive tackle, New York Jets
Isaiah J. Downing-USA TODAY Sports
Now that the Jets have washed themselves of Sheldon Richardson and Mo Wilkerson completely, Williams becomes the face of this team's defense. As much as this bodes well for the Jets moving forward, it also provides Williams with some solid negotiating power.
Having already picked up the $14.2 million option on Williams' rookie deal for the 2019 season, that seems to be the baseline average annual salary he'll receive on a long-term extension. It's pretty much similar to the deals we've seen from the likes of Malik Jackson and Gerald McCoy recently.
Sure the Jets might push back against the idea of handing a player with 12 career sacks under his belt this type of money. That makes sense. But Williams' importance to the team is much more widespread than simple sack numbers. According to Pro Football Focus, Williams is second behind Aaron Donald among NFL defensive tackles in combined sacks and hits over the past two seasons. His presence is real and one that the Jets need to make sure continues over the long haul.
Source: Yard Barker
Read More