Before you know it, NFL teams are going to be grinding out training camp practices en route to preseason games, and then the regular season will be upon us. Things move swiftly this time of year, and that suddenness creates a pressure-cooker environment.
On that note, we're going to take a trip around the league to identify players from each NFL team that are under the most pressure to come up big during training camp.
Arizona Cardinals: Sam Bradford, quarterback
This is, of course, a two-fold issue for Bradford. First off, the guy just needs to stay healthy. When he's able to stay on the field, Bradford is a very serviceable, accurate quarterback who has the tools to turn Arizona's offense into a first-down-making machine. The second issue is that, quite simply, Bradford has some serious competition in the form of Josh Rosen, who's breathing down the veteran's neck. Rosen has impressed the heck out of the Cardinals. It's going to take nothing less than Bradford's best to keep the rookie on the sideline this year.
Atlanta Falcons: Calvin Ridley, wide receiver
Right now, it sure seems like Julio Jones is going to hold out of training camp for a new contract. This development puts a ton of pressure on Ridley to show he's a legitimate No. 1 option for the Falcons in camp after being selected in the first round out of Alabama this spring. He will be going up against some darn good defensive backs on a regular basis this summer in camp. Hopefully, for his sake and the sake of Atlanta's offense, he proves he was worth the draft slot.
Baltimore Ravens: Joe Flacco, quarterback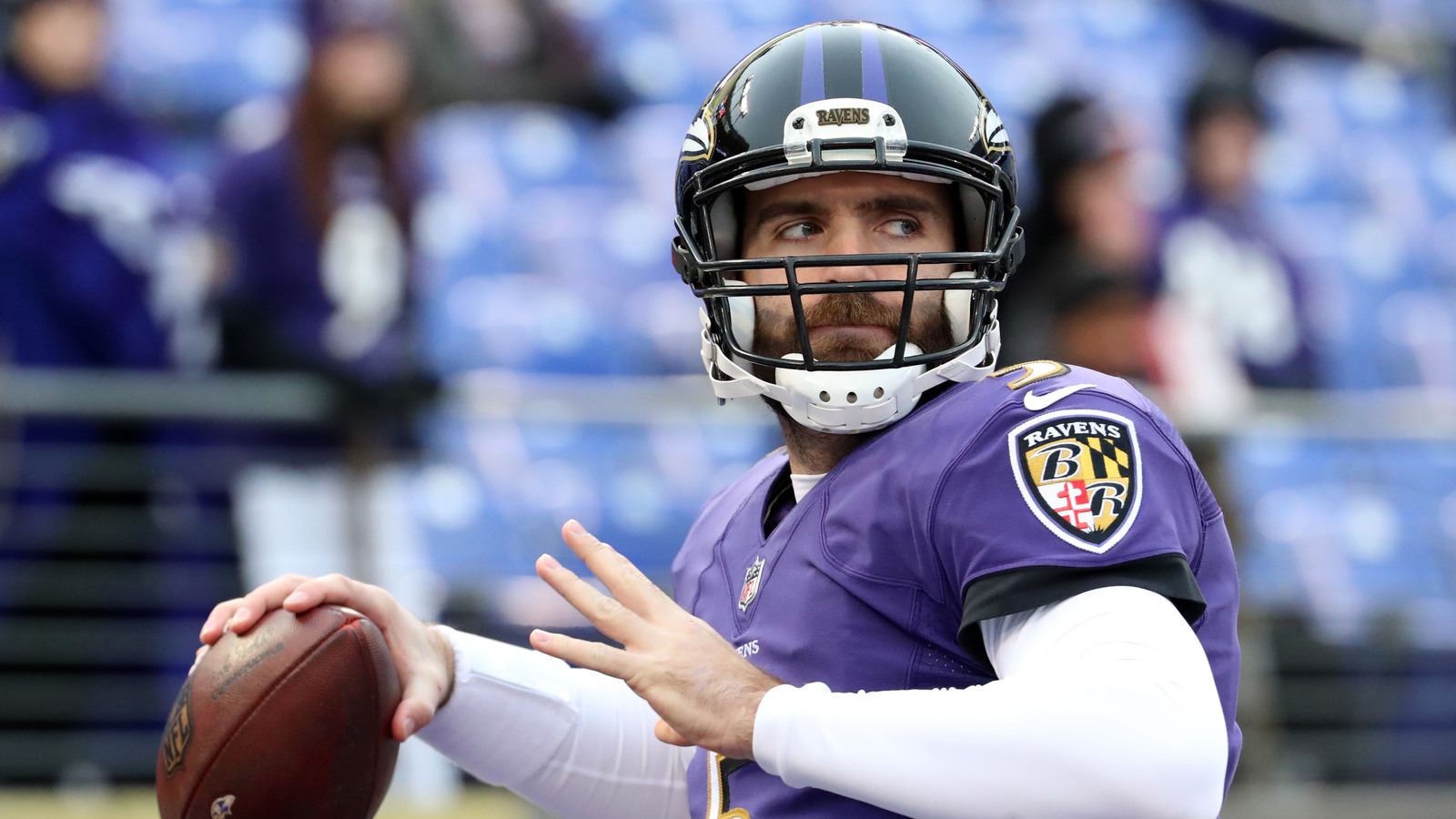 Mitch Stringer-USA TODAY Sports
It's clear that Flacco's time as the top dog in Baltimore is winding down to an end. The Ravens made a smart, bold move to select 2016 Heisman winner Lamar Jackson with the final pick of Round 1 this April, and by all accounts he's done nothing but wow this offseason. The Ravens plan on utilizing Jackson as much as possible this year, even with Flacco on the field. If the veteran quarterback doesn't really step up, then we wouldn't be surprised if Jackson's involvement didn't evolve into him taking every snap under center.
Buffalo Bills: AJ McCarron, quarterback
McCarron worked hard to get out of Cincinnati, and he believes he's a starting-caliber quarterback in the NFL. That's a huge reason why he signed with Buffalo this offseason, because playing for the Bills gave him the best chance to earn a starting role. Well, so far that hasn't worked out well for the former Alabama star. He's failed to pull away from Nathan Peterman, who is in line to start this year if McCarron doesn't prove he's the guy for the job.
Carolina Panthers: Curtis Samuel, wide receiver
A second-round pick out of Ohio State last year, Samuel's rookie campaign was marred by injury, and he really never got any momentum going. He's an immensely talented playmaker who still has a chance to become a huge cog in Carolina's offense, however, this summer is a critical time for him to prove himself. The Panthers have some pretty unique weapons, but Samuel's talents make him a perfect fit to become a slot dynamo. Now it's time for him to live up to his potential.
Chicago Bears: Mitch Trubisky, quarterback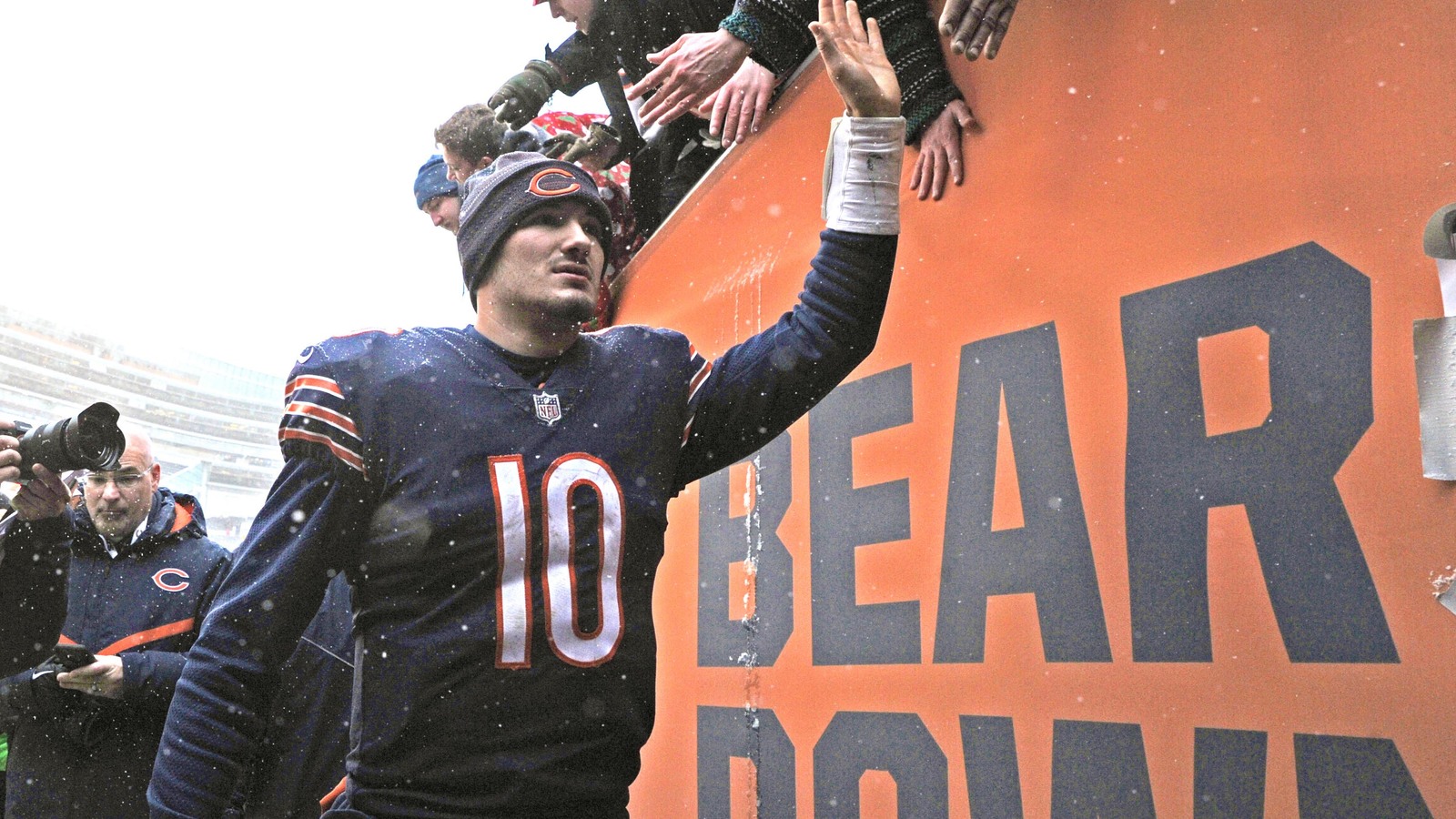 Patrick Gorski-USA TODAY Sports
The Bears gave up an arm and a leg last year to ensure they landed their guy in Trubisky. His rookie season was very frustrating, but much of that had to do with a lack of help, both from a talent and from a coaching standpoint. Now he has an up-and-coming offensive-minded head coach in his corner, along with a ton of intriguing talent. Will there still be a steep learning curve for this young man? Sure. But at the same time he needs to step up big time now and prove he's franchise-passer material, and that starts with a strong training camp this summer.
Cincinnati Bengals: Michael Johnson, defensive end
Recently, we highlighted Johnson as one of the top veterans who could be cut before training camp concludes. He's been a strong player for Cincinnati for nearly a decade, and he even had one season in which he had elite production. Unfortunately, that season is now well in the rear-view mirror, and in the meantime the Bengals have brought in a ton of promising young talent. If Johnson is going to retain his starting job this summer, let alone his spot on the roster, then he needs to find the Fountain of Youth, and quickly.
Cleveland Browns: Carlos Hyde, running back
Hyde went from being the undisputed starter in San Francisco to a guy who was being pushed by an undrafted rookie, Matt Breida. Then he found himself looking for work as the San Francisco 49ers looked elsewhere in free agency, and he signed a nice three-year deal with Cleveland. Now it's looking like Hyde could be one-and-done with the Browns, barring a surprise. It's been reported that rookie Nick Chubb could be the starting back for Cleveland this year, which would relegate Hyde to being the team's short-yardage specialist. That's not what he had in mind when he signed, to be sure. The battle between Hyde and Chubb will be fierce in training camp.
Dallas Cowboys: Dak Prescott, quarterback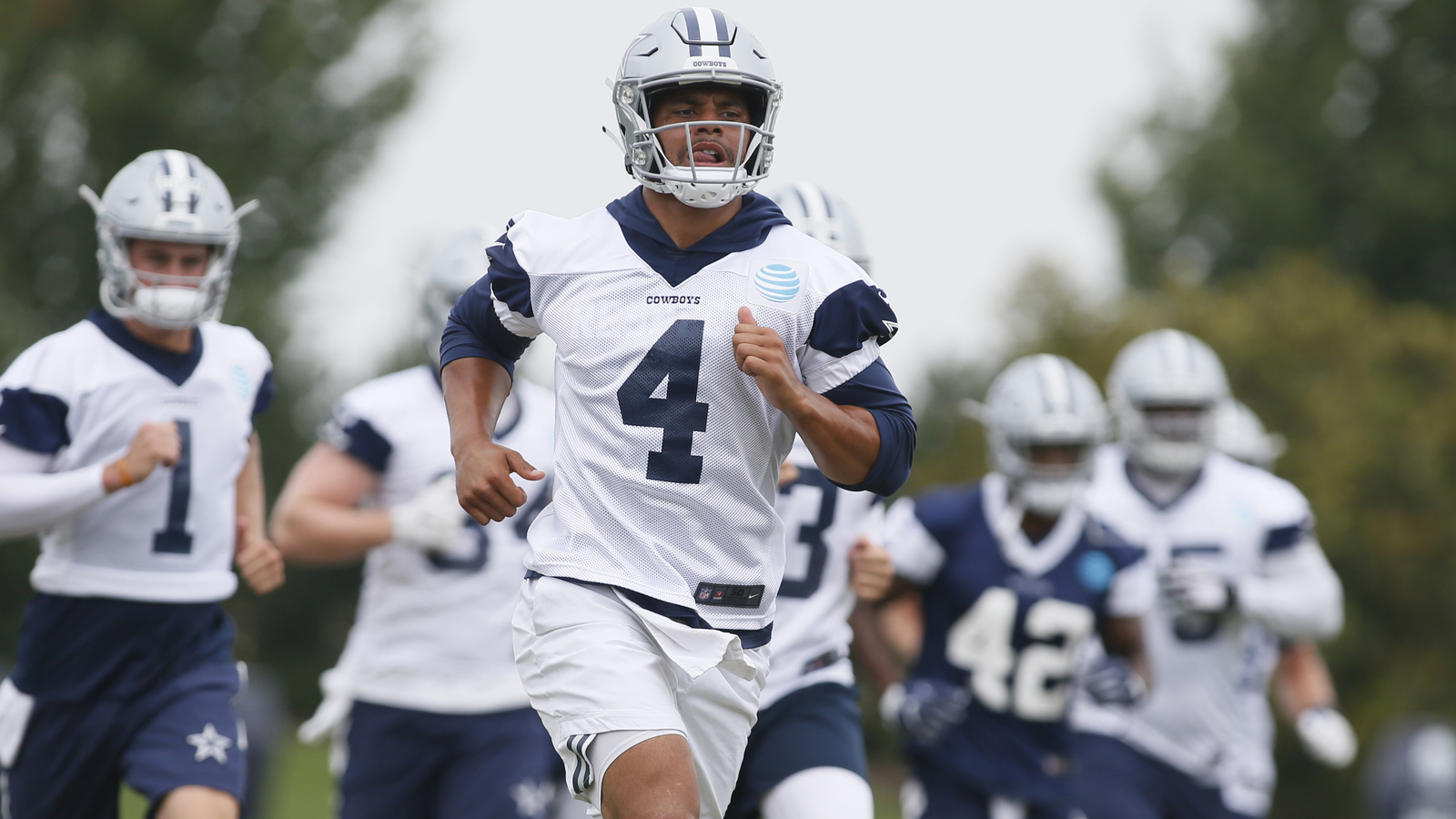 Tim Heitman-USA TODAY Sports
There's no backup plan in Dallas. If Prescott either gets injured or continues to struggle in 2018 like he did last year, the next man up is…Cooper Rush? Yeah, Prescott has to be good for Dallas to have any chance of competing in the NFC East. He certainly has the right mindset to take on this challenge. We'll find out soon enough whether he has the ability to turn that into solid gold on the field.
Denver Broncos: Devontae Booker, running back
The Broncos have been waiting for Booker to emerge as a lead back for a couple years now. So far, he has failed to show the kind of tools it takes to handle the job, averaging just 3.6 yards per carry. Now he'll be pushed by rookie Royce Freeman, who was an absolute stud at Oregon for four seasons. It's been reported that Freeman could be the starter for the Broncos this year. If that happens, it seems unlikely Booker will ever be seen as a contender for a starting role again.
Detroit Lions: Ameer Abdullah, running back
When Abdullah came into the NFL as a second-round rookie out of Nebraska in 2015, it was thought he could be the next Barry Sanders for the Lions. The hype was pretty intense. In three years, however, he's been unable to stay on the field and has averaged just 3.8 yards per carry when he has played. Now Detroit has upgraded its running back room, having signed LeGarrette Blount in free agency and brought in rookie Kerryon Johnson out of Auburn as a second-round pick. Abdullah could soon be out of a job if he doesn't make some waves this summer.
Green Bay Packers: Kevin King, cornerback
The Packers thought enough of King last year to take him with the first pick of the second round. A long, lanky cornerback, he was drafted to take on a big role in Green Bay's defense. Unfortunately a shoulder injury kept him from making much of an impact, and he started just five games. Now King comes into training camp this summer with a ton of competition after the Packers selected Josh Jackson and Jaire Alexander in the first two rounds. Given the caliber of these two players, it's conceivable that King could find himself on the outside looking in come game day.
Houston Texans: Deshaun Watson, quarterback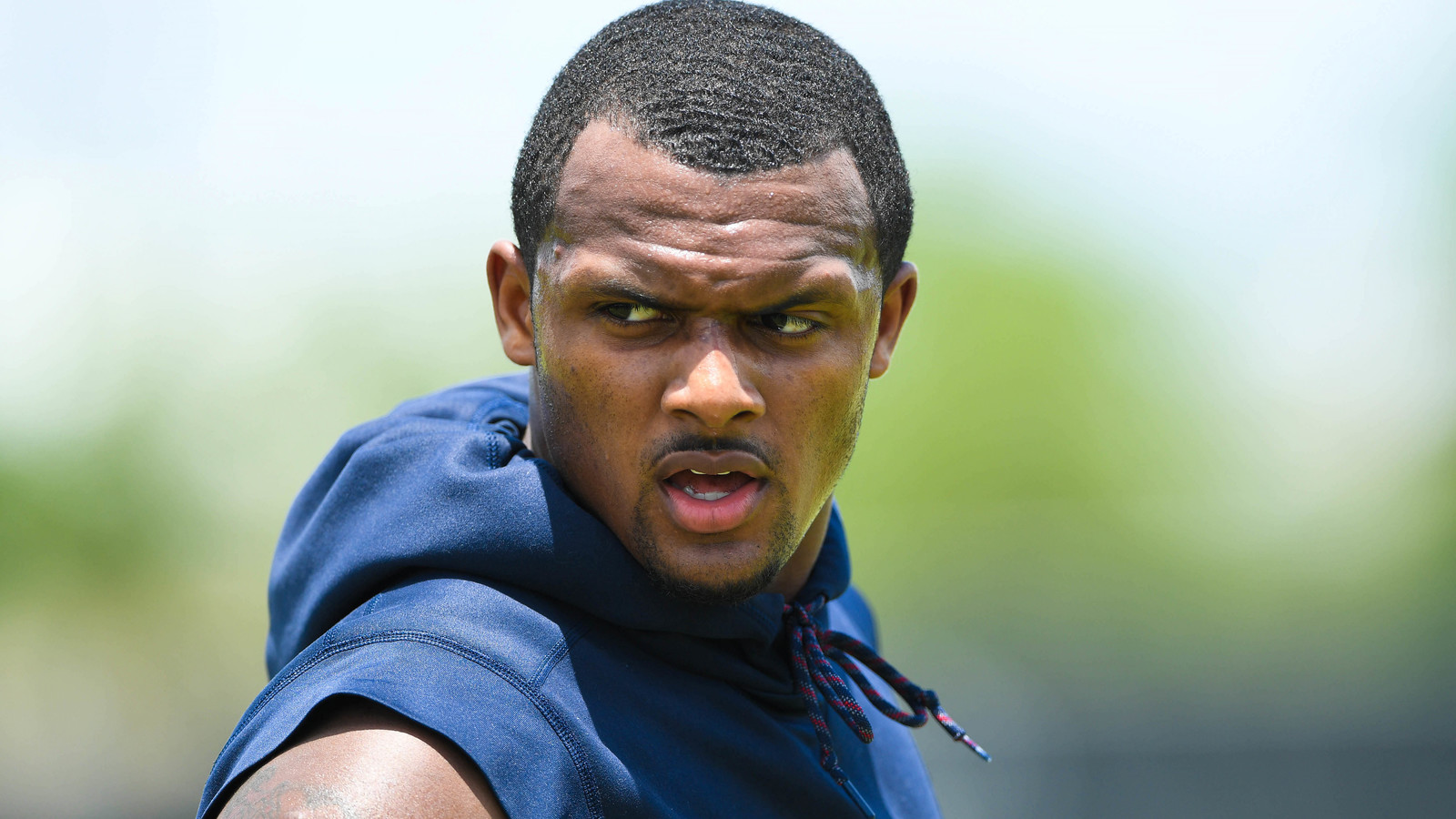 Shanna Lockwood-USA TODAY Sports
Watson is facing a different sort of pressure than many we're featuring on this list. He's the undisputed starter in Houston, and he was one of the hottest quarterbacks in the league last year before suffering a season-ending ACL injury. The big deal now is proving that his miraculous seven-game stretch as a rookie wasn't just a history-making blip on the radar. He needs to prove he can consistently dominate, and now opposing defensive coordinators have a bit of tape on him, which makes his job a bit more difficult. If Watson can continue to shine, then the Texans could be Super Bowl bound. If not, then this team will remain mired in mediocrity.
Indianapolis Colts: Andrew Luck, quarterback
Luck hasn't been healthy since the start of the 2015 NFL season. In Week 2 of that season, his throwing shoulder was injured, and he's been either playing hurt or sidelined ever since. Now, he's throwing footballs again (finally), but at this point nobody really knows what to expect from him going forward. If he's healthy — he says there's no pain any more in that shoulder — and able to play like he did before the injuries, then the Colts will be playoff contenders. If he's not able to play, they'll be picking early again in the 2019 NFL Draft. No pressure, right?
Jacksonville Jaguars: Barry Church, safety
We could have gone with Blake Bortles here, but he's clearly entrenched as the starter for the Jags. Instead, we'll focus on a defensive battle that could be coming. Church was solid last year, but the Jaguars drafted Ronnie Harrison out of Alabama for a good reason. If Church doesn't continue to shine, then we could see Tashaun Gipson slide to strong safety to open the door for Harrison to take over at free safety. This is the nature of the beast for many longtime veterans. Church, 30, could soon be a backup.
Kansas City Chiefs: Patrick Mahomes, quarterback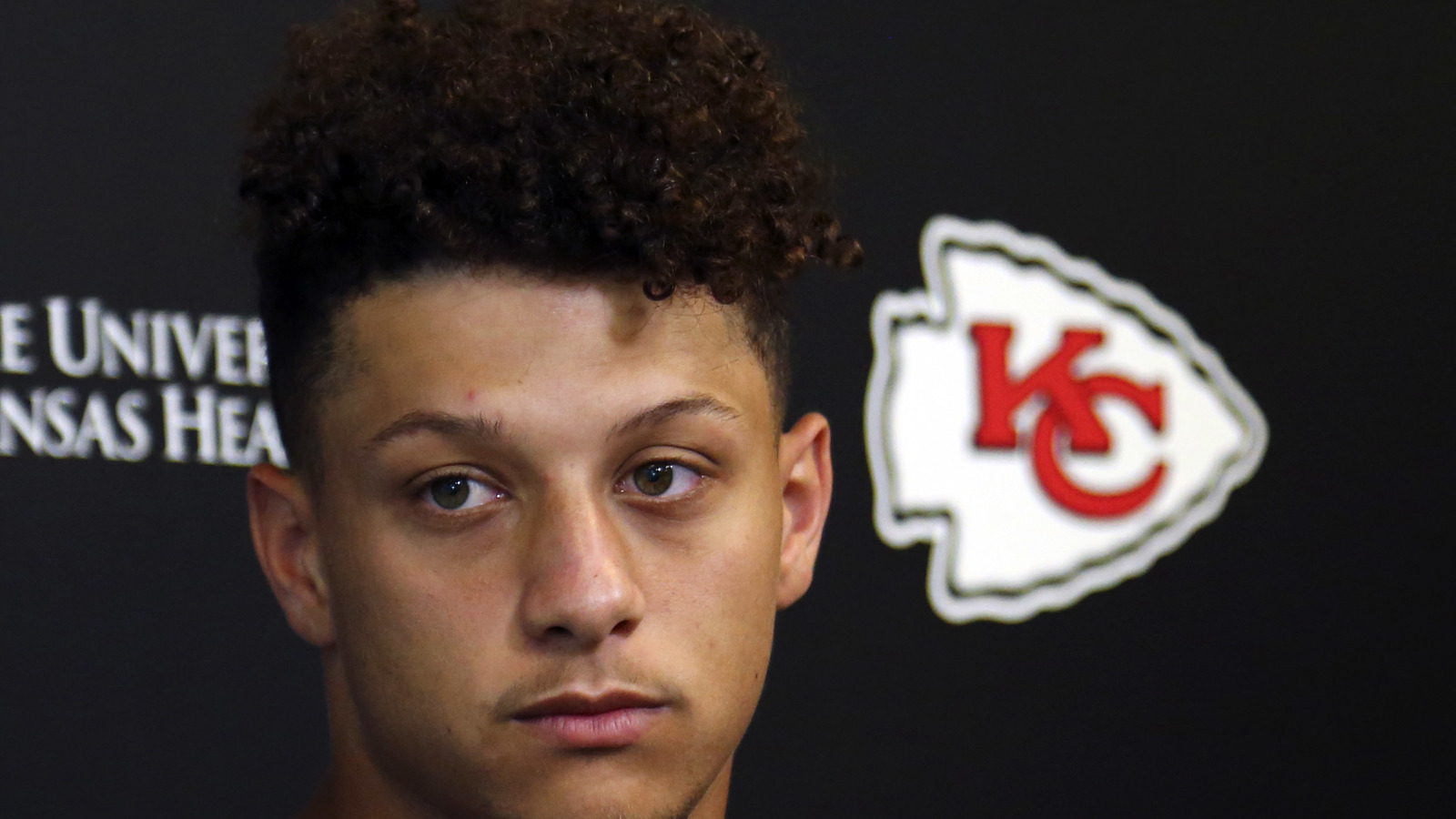 Jay Biggerstaff-USA TODAY Sports
Much like Dak Prescott in Dallas, it's Mahomes or bust for the Chiefs this year and until further notice. Sure, he looked very good last year in the lone game he started, and he looked phenomenal last preseason. But now it's all on this young man to sink or swim, and Andy Reid is throwing him into the deep end of the pool without a life preserver. Mahomes appears to have all the tools he needs to succeed. But so have so many other talented passers before him who have ultimately failed.
Los Angeles Chargers: Mike Williams, wide receiver
We've gone over this before. Williams has to come up big this year to justify being selected No. 7 overall last year. He dealt with injuries that derailed his rookie season, and when he did play he was pretty invisible, catching just 11 passes for 95 yards and no touchdowns. If Philip Rivers can't find a way to get Williams involved this season, then it stands to reason no quarterback could. He needs to stay healthy this summer and prove he's an elite weapon, or the "bust" label could stick.
Los Angeles Rams: Jared Goff, quarterback
Sure, the defense has the makings of a legendary squad, and Todd Gurley is coming off a huge season. But the Rams will only go as far as Goff takes them when it counts the most, and this third season is a critical one for the young passer. After a miserable rookie season, he was very good last year, throwing 28 touchdowns and just seven interceptions. Can he continue to plug away in such an efficient manner, or will he succumb to the pressure of exceeding expectations?
Miami Dolphins: Raekwon McMillan, inside linebacker
Before suffering a season-ending knee injury, McMillan was emerging as a force inside of Miami's defense last year as a second-round pick out of Ohio State. The Dolphins struggled without him, allowing over 110 rushing yards per game. There isn't a lot of linebacker depth on the roster once again in 2018. McMillan needs to get right back to where he was in 2017 before the injury to help turn things around.
Minnesota Vikings: Kirk Cousins, quarterback
After signing the first (and, to date, the only) fully guaranteed contract in modern NFL history, the pressure couldn't be more intense for Cousins to prove he was worth it in 2018. He's entering a situation in Minnesota where he's being viewed as the one thing that was missing from squad that had every other thing a championship contender needed. If Cousins lives up to expectations, then the Vikings absolutely can win a title. On the flip side, if he doesn't, then the Vikings will be set back for a long time.
New England Patriots: Sony Michel, running back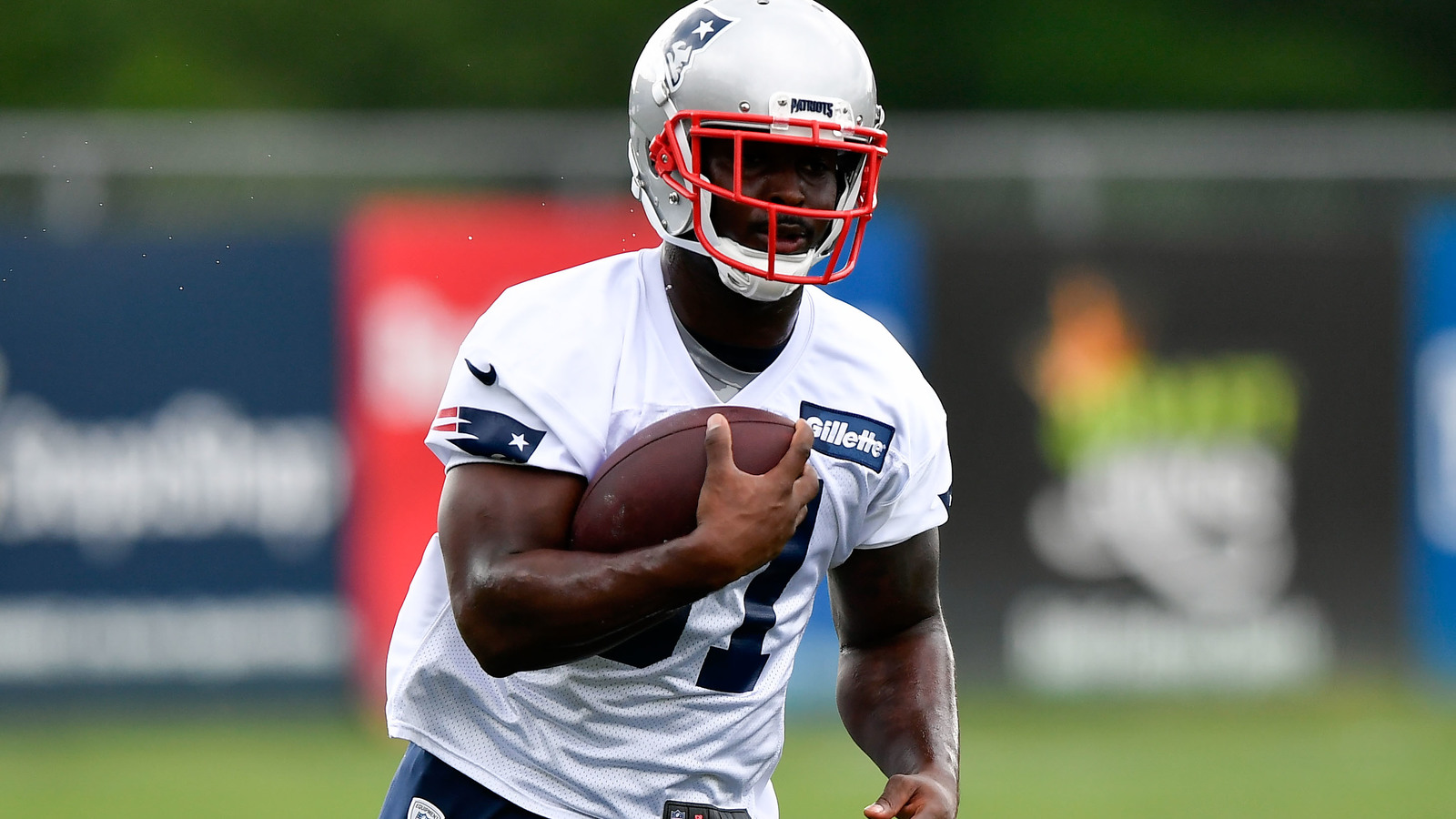 Brian Fluharty-USA TODAY Sports
The Patriots don't select running backs in the first round. It's almost unheard of. Before using the No. 28 overall pick to select Michel out of Georgia, the last time New England used a first-round pick on a running back was in 2006. Clearly, the Pats loved Michel's game. He should be the ideal (cheaper) replacement for Dion Lewis, who is now with Tennessee. But we've seen plenty of skill position players flame out in New England in the past. Michel has a lot to live up to, and he needs to start living up to it this summer, especially in light of Julian Edelman's suspension.
Source: Yard Barker
Read More